Skilled & Experienced Lawn Mowing Sydney
Do you wish your grass was greener? Or that your lawn was lusher?
We've got the tools, the talent, and the team to help.
Originally founded in 1990, Manna Landscapes has been building a rock-solid reputation ever since. Each of our 20 staff members was hand-picked for their passion and dedication to their craft and our customers. So while we've been providing top-notch lawn care services across the North Shore and Hills District for over 25 years, it's our love of creating stunning gardens and outdoor spaces that keep us at the forefront of the gardening industry.
If you're looking for lawn mowing in Sydney, the North Shore or the Northern Beaches, look no further than Manna Landscapes. If your lawn looks a little out of sorts, or if it just needs a little TLC, our staff can help. From a quick trim to bring an unruly garden in line, to a large project that requires careful attention to detail, we pride ourselves on tailoring a lawn program to suit each customer's needs.
If you're ready to wake up to a neat, manicured, and stunning yard, contact our friendly and professional staff to set up an appointment or claim an obligation-free consultation to tell us more about your needs. We're ready to bring your yard up to its full potential, and keep you informed every step of the way. From a one time service to repeat visits, we won't stop until you're satisfied with the end result.
Call today on 0415 837 699 or click here to schedule your FREE consultation.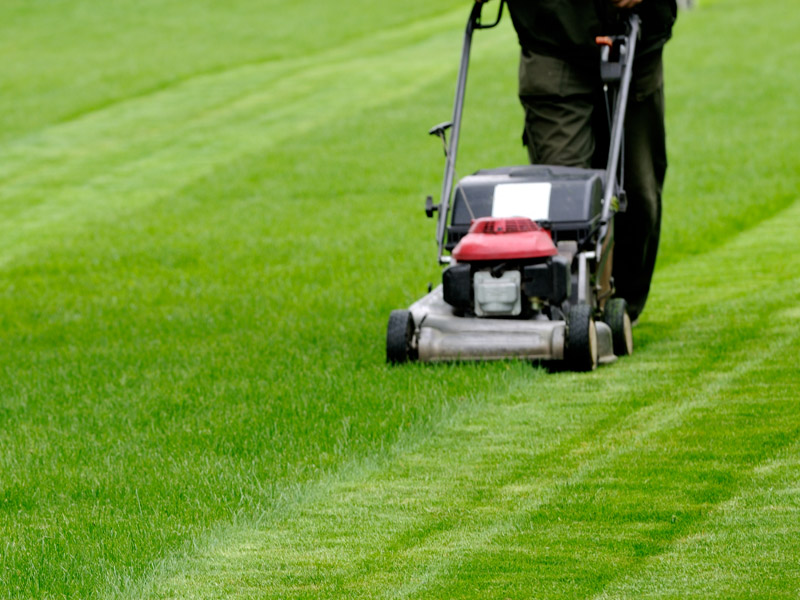 Signs your lawn needs professional mowing
Every Sydney homeowner wants an immaculate lawn that makes the neighbours green with envy, but maintaining your grass can be tough whether you're running a busy household or providing for your family.
It's easy to assume a backyard will be fine if left alone, but your garden requires ongoing maintenance to stay healthy and lush. If you recognise any of the following signs, it's time to contact our landscapers and organise a quick and affordable lawn service.
Brown Grass

Brown grass is a sign of neglect and should be cut as soon as possible. At Manna Landscapes, we offer a range of lawn care services, so if brown grass is the result of nutrient deficiency, we'll be able to recommend a custom solution.

Seasonal Change

Have you noticed your yard explode to life in spring? Staying on top of lawn growth during the warmer months can help you avoid damage that occurs when grass becomes overgrown and dense.

Lawn Pests

Have you noticed more bugs or creepy crawlies in your yard or Sydney home? Insects will happily move into an overgrown garden and can be a health risk and highly stressful to you and your family.

Huge Garden

If your backyard presents a gargantuan mowing job, it's easier to outsource to the pros. You enjoy your weekend while our advanced tools and equipment make quick work of long grass.

Weeds

Weeds and overgrown landscape features can be tough to remove safely. Store-bought pesticides can kill your grass and surrounding flora, so contact our lawn care professionals today for a fast and safe solution.
Frustrated by weeds and looking for a custom garden instead? Explore our plant supply and advice service
How much does it cost to hire a professional service?
If you've ever shopped for lawn mowers at Bunnings, you'll already know how expensive it is to purchase modern gardening equipment and tools. Throw in the cost of fuel and the hours of hard work in the sun, and hiring a professional service becomes the cost-effective and simple choice.
The price in Sydney typically falls between $30 to $120 per hour. This is in line with general lawn care and garden maintenance services.
You can also save money by arranging a regular lawn service, as your lawn care team will be able to stay on top of weed growth and keep your grass in check, helping keep your costs down.
Looking to learn more about the cost of professional lawn service? Click here to read our 'How Much Does Lawn Mowing Cost in Sydney Guide [2022 Edition]'
Why choose Manna Landscapes?
Our landscapers the pride we take in everything we do sets us apart. As a team of garden-loving experts, we treat your yard as if it were our own.
100% Customer Satisfaction. For over 25 years, we've been exceeding customer expectations. We've selected each of our staff members for their dedication to making sure your lawn gets the treatment it needs to thrive. We value each customer and we work to tailor a plan that suits your needs on your schedule.
Professionalism. Our strong sense of professionalism translates into our everyday work. Every interaction with our customers should have a lasting impact and leave them with a memorable experience. It's this professionalism and dedication that has allowed us to maintain a loyal client base with most of our new customers coming from recommendations.
25+ Years of Experience. Over the past 25 years, we've been able to expand our knowledge of the gardening and landscaping industry. This allows us to do the best job possible, no matter what the task at hand is. Our staff are all trained, and they are ready and willing to rise to any challenges you may have.
If you're looking for lawn service in Sydney, Manna Landscapes is here to help. For questions, concerns, or to set up an appointment, you can contact us using our online contact form or give us a call at 0415 837 699 today.
Frequently Asked Questions About Lawn Mowing in Sydney
How often should I mow my lawn?
Most lawns require mowing once every two weeks during the growing season (summer). This can be scaled back to once a month during winter when growth slows. Although mowing your lawn can seem like a task that can be performed at any time, your grass can suffer from damage if not cared for. For example, cutting grass too short can lead to sun damage.
How to choose the best lawn service in Sydney?
The best company won't necessarily be the cheapest (although we do pride ourselves on our competitive pricing). Your grass needs to be cared for to promote health and durability, so you need a team you can trust. Be on the lookout for a team that:
Arrives on time and is reliable
Works quickly and efficiently to keep costs down
Delivers quality services to promote grass health
Has testimonials and a project gallery for you to explore
Do you offer free quotes?
Yes! We understand the importance of sticking to your household budget and strive to offer a fair, competitive service with transparent prices. We also know it's important to compare your lawn care options. So reach out and speak to our landscapers on 0415 837 699 for a 100% free quote today.
Testimonials
"On behalf of Zena&myself we would like to thank you and your team of professional tradesmen for your exceptional effort in transforming our rear yard into an area that will be enjoyed for years to follow.

The timing, professionalism & courtesy that you and your staff demonstrated were appreciated and we thank you for your prompt service.

The pergola was re-installed to our satisfaction and we thank you for your help in this matter."
"I just wanted to drop you a note to let you know that I am very impressed with the chap you sent out to do our quote.

Paul came by and had a look at the property and after listening to what we wanted to achieve and working within our pretty limited budget, he came up with some really imaginative low cost alternatives to what I was thinking about.

Paul's suggestions enabled us to transform the backyard. The team you sent out to carry out the work, i.e. Matthew and Andrew were really professional, courteous and efficient.

Thank you very much and keep up the great work."
"Jules and his team project-managed and built a 5m x 4m covered pergola, laid new turf and a garden bed, and put up dog-proof (and kid-proof!) fences in our backyard.

They did a fantastic job and we have received many compliments from family members, friends, and neighbours, as to how their work has opened up our backyard and made it more 'liveable.'

We found Jules and his team to be very friendly and approachable- as accountants, we had very limited knowledge about landscaping but Jules and his team answered all our questions patiently and made sure to discuss the different options that could be pursued to achieve what we had in mind.

Jules has a highly creative eye. Moreover, we found him and his team to be honest and reliable in the way that they operate and transparent in their pricing.

We are very happy with the work that Jules and his team have done and do not hesitate to recommend him to others."
Fast Free Quotes
High quality, affordable landscaping design & services