Sydney's Leading Water Feature Experts
When it comes to landscaping, most homeowners think first of lush grasses, diverse plantings, and integrated hardscapes. Outdoor water features add to the ambiance by adding new textures and sounds to gardens in a variety of styles to suit any interest. Whether you want to accent a space with a basic bird bath or arrange your landscape design around a pond, water fountains are a versatile way to make a garden your own.
They can be as natural or high tech as you'd like, too. Place fountains on timers, incorporate lighting, and use solar power pumps to get the mood just right.
While you can search retailers for straightforward options like a standalone fountain, getting the scale, design, and installation just right can be a challenge. That's where landscapers become helpful.
Manna Landscapes is the finest choice for landscaping in Sydney. We design dream gardens for our customers by incorporating water facilities with striking style, pertinent location, and suitable equipment for any aesthetic. Outdoor water and lights can be added to fashion fabulous effects with a touch of class to your landscaping. And with over 25 years of experience working with Sydney homeowners, you'll be in great hands when it comes to a seamless design made to last.
Unsure where to find Sydney's best landscaper? We wrote the guide on it (literally). Find out how to spot the best landscaper in Sydney here.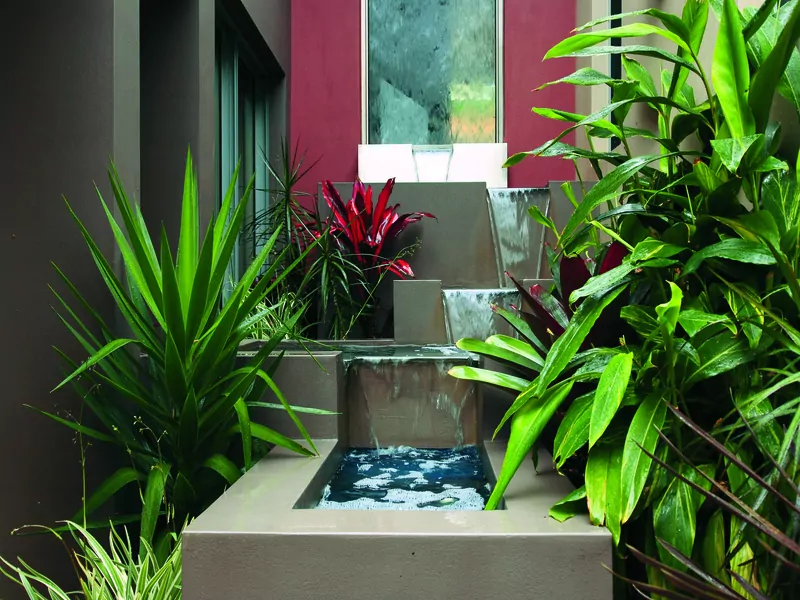 Why include a water facility in your landscape design?
Who doesn't love the relaxing sound of water trickling as they enjoy the sights and sounds of nature? Water fountains are beloved for the sense of calm they inspire. If you envision your garden as a place to unwind after a long day or to relax with friends and family, a water fountain can help create the vibe you're looking for.
They also add unique design elements that reflect our personality. From traditional tiered styles reminiscent of Greek and Roman designs to modern-styled infinity fountains, there's an option for every individual.
Larger scale water facilities such as ponds are a wonderful way to invite nature to flourish. Plantings can help attract additional wildlife, a great enjoyment for bird watchers. Where permitted by council regulation, homeowners can also be found keeping fish in their ponds as another way to bring it to life.
What water feature designs are popular in Sydney gardens?
They come in so many different designs, styles, sizes, and materials that it would be impossible to count them. However, quite a few have increased in popularity in the outdoor spaces across Sydney in recent years. Here are just a few to get your imagination started:
Free-standing fountains: Vary in styles such as bubbling, streaming, cascading, spouting, and disappearing (to name a few)
Structural ponds: Self-contained and free-standing with depth for fish or plants
Recessed ponds: Dug out and built into the ground landscape for a natural look
Wall features: Free-standing or attached to existing walls with cascading or streaming options
When it comes to materials, homeowners also have a lot to choose from. Water facilities are manufactured in cast iron, concrete, glass, steel, stone, and copper. Custom water fountains can also be fabricated from a mix of materials based on plans from a landscaper.
How much do they cost?
As we explained above, water fountains come in a lot of different types and materials. Because of this, every feature will have a different price. As a general rule, the larger the feature, the more you will pay for it. This applies whether you are interested in a prefabricated concrete fountain or a custom in-ground pond.
The table below can give you a rough idea of average costs. But keep in mind that this can vary depending on the unique combination of materials and size you choose. Delivery and installation fees can also apply. If you do not already have electrical service close by, you may also pay an additional fee to have an electrician run wiring to the required location.
When it comes to custom design and custom build, you'll need to get a quote from your landscaper.
| | |
| --- | --- |
| Water Feature Type | Average Cost |
| Freestanding Fountain – Concrete | $400-1,000 |
| Hanging Wall Fountain – Resin | $200-500 |
| Standalone Bird Bath | $50-300 |
| Cascading Wall Feature | $500-2,000 |
| Tiered Style – Stainless Steel | $300-600 |
What questions should I ask before deciding on a Sydney water feature?
Chances are that if you are considering a water facility then you already have a style or concept in mind. But just because you have your heart set on a pond or cascading wall of water doesn't mean you should go full steam ahead. Ask your landscaper for their opinion on materials and sizing for your space. They may surprise you with other options that never crossed your mind before.
Aside from getting some extra design inspiration, there are a few things you should ask as you choose the feature and the professional to get the job done for you.
Have you installed or constructed a feature of this type before?
Do you coordinate the electrical service to the location?
What care or maintenance will be needed if I choose this option?
How long will it take to install and finalize the set up?
Do you order all of the materials or do I have to buy the feature myself?
Can I see photos from similar jobs you have completed?
Why Choose Manna Landscaping
With so many options to choose from, deciding on how to incorporate a water fountain in your landscaping can start to get overwhelming. Turn to the experts at Manna Landscaping. Whether you want a new landscape design with a water facility focal point or need help incorporating a new creative piece in your existing garden, our creative pros can help.
Manna Landscaping has served Sydney and the surrounding areas for over 25 years. We can help with ordering and installing any prefabricated features you have your eye on. Or if nothing quite fits your fancy, we can work with you to custom design and build the water fountain of your dreams. No project is too big or too small – just fill out our Landscape Design Checklist or call us on 0415 837 699 to get started.
Frequently Asked Questions About Water Features in Sydney
Can a designer use a water fountain that I already purchased?
Certainly! Be sure to share this element when you are going over your initial design. The landscaper will want to make sure they have the exact measurements so they can work it into the design properly. It can also serve as a great way to explain the design style you prefer, such as traditional or modern. If your water facility requires electrical service to operate, the landscape designer will also assess your garden and advise whether there could be additional costs to run wiring to the location.
Are they hard to keep clean in outdoor gardens?
Outdoor fountains are designed to handle the elements, but they do need a bit of upkeep to make sure they last. A landscaping service may offer water maintenance as part of a yearly care plan. But if you want to tackle this yourself, it may certainly be manageable. Most fountains will need to be drained yearly and rinsed down. This will help remove deposits and debris that can build up over time. If your water facility comes with care instructions, be sure to check those before using anything other than water to do the job.
What do I do if my water fountain needs to be repaired?
If it was purchased as a prefabricated or manufactured piece, you may still be covered by a warranty. Check with your paperwork or with your landscape designer to see whether your issue can be taken care of. Note that most warranties cover wearable parts such as pumps.
For a custom water facility, you'll want to check first with your original landscaper. They'll be most familiar with the construction and innerworkings and may be able to offer a quicker repair. Of course, you can ask any landscaping service to assess the situation and provide an estimate for a solution. Keep in mind that it's not recommended that you try to fix things yourself. This could create additional issues and add to the overall repair costs.
Do I have to turn the fountain on and off depending on use?
Most water pumps are designed for 24/7 usage. In fact, frequent on and off action can put extra wear and tear on the pump. If you will be away for an extended period of time and would feel more at ease shutting off non-essential electrics, you should be safe to do so. But be aware that leaving still standing water can breed scum that may need to be cleaned before you turn the water feature back on. Still water can also breed pests, so it's not recommended to leave it off for long.
Do I have to run plumbing to my water fountain?
No, nearly all water facilities are self contained systems. Larger fountains and wall features may include drains or filters to keep things running smoothly. When it comes to refreshing or replacing water, they are typically drained, rinsed, and then refilled from a temporary source like a hose.
Testimonials
"On behalf of Zena&myself we would like to thank you and your team of professional tradesmen for your exceptional effort in transforming our rear yard into an area that will be enjoyed for years to follow.

The timing, professionalism & courtesy that you and your staff demonstrated were appreciated and we thank you for your prompt service.

The pergola was re-installed to our satisfaction and we thank you for your help in this matter."
"I just wanted to drop you a note to let you know that I am very impressed with the chap you sent out to do our quote.

Paul came by and had a look at the property and after listening to what we wanted to achieve and working within our pretty limited budget, he came up with some really imaginative low cost alternatives to what I was thinking about.

Paul's suggestions enabled us to transform the backyard. The team you sent out to carry out the work, i.e. Matthew and Andrew were really professional, courteous and efficient.

Thank you very much and keep up the great work."
"Jules and his team project-managed and built a 5m x 4m covered pergola, laid new turf and a garden bed, and put up dog-proof (and kid-proof!) fences in our backyard.

They did a fantastic job and we have received many compliments from family members, friends, and neighbours, as to how their work has opened up our backyard and made it more 'liveable.'

We found Jules and his team to be very friendly and approachable- as accountants, we had very limited knowledge about landscaping but Jules and his team answered all our questions patiently and made sure to discuss the different options that could be pursued to achieve what we had in mind.

Jules has a highly creative eye. Moreover, we found him and his team to be honest and reliable in the way that they operate and transparent in their pricing.

We are very happy with the work that Jules and his team have done and do not hesitate to recommend him to others."
Fast Free Quotes
High quality, affordable landscaping design & services
If you're struggling to compose some sort of paper, you've likely thought about hiring professional writing services. These services specialize in academic papers and ensure the highest quality work. To ensure this, they hire only professionals with paper writing service the highest quality writing skills, and they go through rigorous testing. Additional benefits associated with the services include loyalty bonus discount coupons, freebies, and discounts. It is possible to make it to your deadlines thanks to these companies. These suggestions will assist you to identify the most effective option.