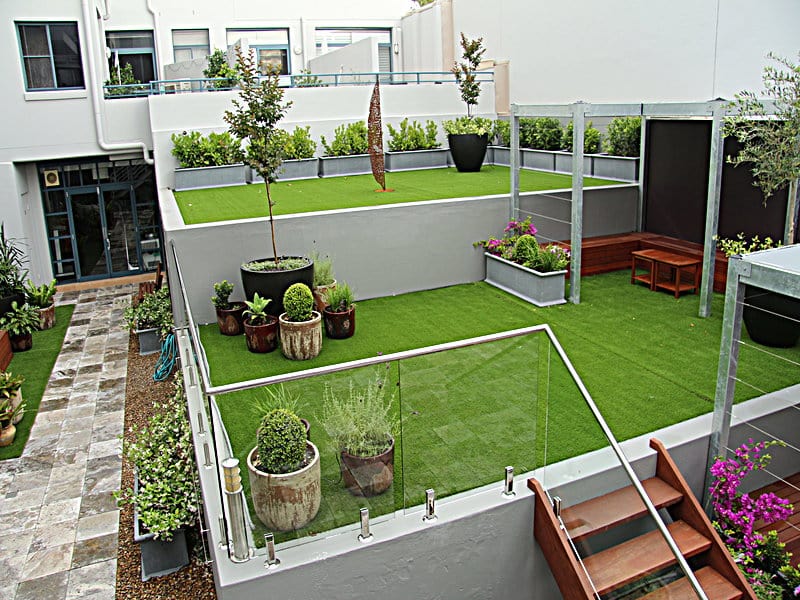 Let's be honest, we all want to have a green thumb, but there are certain outdoor projects that require a professional touch.
You might love the idea of having your yard be the backyard oasis of your dreams and the envy of your Sydney suburb,but if this dream is dampened by the reality of dead plants, overgrown weeds, or a landscape design that just doesn't work, it may be time to turn to the pros.
With dozens of Sydney landscapers on Google and suggested by your mates, it helps to have a guide (like this one) to separate the ordinary from the extraordinary. So if you're ready to choose Sydney's premier landscaping team, here's what to look for.
What does a landscaper *actually* do?
It's tough to find the best of something until you know exactly what you're looking for.
The right landscaper will help build or maintain your garden, backyard, or other outdoor landscape, but it's important you don't make your choice on features alone. We've rounded up a collection of responsibilities and skills that Sydney's best landscapers share, but below the list we've added the MOST important quality in a great landscaper.
Leading Sydney landscaping companies will help with:
Ensuring healthy plant growth
Executing general cleaning and maintenance tasks
Trimming overgrown hedges, limbs, or leaves
Applying pesticides to remove harmful insects
Applying fertilisers to plants to enhance blooming and growth
Planting new trees, bushes, flowers, and shrubs
Advising you on how to improve and look after your landscape
Coordinating with other teams, for example a garden designer or architect, to make sure that your expectations are exceeded
And as for that ONE all-important quality you need to look for? It's a vision.
Plenty of landscapers have the skills to build a retaining wall or recommend a shrub to suit Sydney's climate, but the best landscapers are able to share your vision, and find creative ways to execute.
How do I know if I need a landscaper?
The fact you're reading this right now is a sign you need a little help.
Chances are you've been working hard to maintain your own space and make it beautiful. That said, it's time-consuming to look after an outdoor space, not to mention expensive to hire or outright purchase all the tools, garden supplies, turf accessories, chemicals, and extras that go into a well-kept and well-manicured lawn.
If you recognise any of the following warning signs, it's probably time to pick up the phone and chat to us about your need:
Your plants don't look quite right (i.e. they're overcrowded, dying, or unattractive)
Your neighbours have made complaints about your yard
You notice discolouration or signs of disease on your plants
You don't have time to take care of your yard yourself
You have a project idea (e.g. a beautiful fountain installation or a retaining wall) but you're overwhelmed or unsure about where to start
What should I look for when hiring a landscaper in Sydney?
When hiring a professional landscaper in Sydney, there are a few key considerations and questions to keep in mind.
First, you should ask your potential new landscape a few key question, like:
"Where do you get your plants from?"
Though you don't need to have only native plants in your yard, it is likely that native Australian flora will grow better and cost less over time.
"How much maintenance will you handle?"
Not all landscapers provide comprehensive garden maintenance like we do. And, if they don't, it means more work on your end. Ask your potential landscaper if they'll offer lawn and landscape maintenance services.
"When will my plants reach maturity?"
It's important that you set realistic expectations about what your plants will look like when they arrive. It is difficult to transfer and plant established plants, so your landscaping crew will likely plant younger saplings and shrubs. Make sure that you understand these details, though, so your expectations are met.
"What kinds of landscaping do you offer?"
Are you looking for landscape design, landscape construction, water features, garden maintenance, or other specific services? Check in with your landscaper and make sure you're clear about what's in their wheelhouse before you sign a contract.
"Can you explain how you'll execute on my vision?"
Creating the perfect landscape requires that you and your team are aligned about your vision, your budget, and your overall goals for your landscaping space. Don't be afraid to ask pointed questions to ensure that your team understands exactly what you want.
"Who is my point of contact if there's an issue?"
Oftentimes, you'll notice landscaping concerns down the line (for example, an area that just isn't draining like it should). Ask your landscaper if they will be available to address these long-term concerns if and when they arise.
What services will the best landscapers offer?
Landscaping isn't just about planting bushes and pulling weeds. In fact, Sydney's top professionals will offer a variety of tailored services to take your outdoor space to the next level. We've rounded up a few of the most popular landscaping niches hard at work in Sydney.
Some landscape architects, (like our team of professionals at Manna Landscapes), don't just work on plants and shrubbery. Instead, we also offer licensed swimming pool building! After all, your pool is a major part of your backyard experience, so we work hard to make sure that it brings the ambience and fun that your family needs.
Not all plants are going to thrive in your environment — and not all are going to play well together. The right landscaping professionals will help you choose plants that will stay alive and flourishing in your yard for the next five, 10, or 20 years.
As we mentioned, the right team will take all the maintenance off your hands so you can just enjoy an aesthetically pleasing, peaceful backyard sanctuary.
You want your outdoor space to be beautiful, functional, and perfectly suited to your family's routine and lifestyle. The best landscaper in Sydney will design the perfect space, keeping in mind local regulations, climate impact, and your most important goals.
There's a lot that goes into creating the perfect backyard oasis, and many customers will need things like:
Paving
Retaining walls
Concrete
Irrigation, gardening, and drainage systems
Special structures like pergolas
Certain landscaping professionals will specialise in this kind of construction, which will help ensure the longevity and safety of your lawn over time. If you need hardscaping upgrades (i.e. building things), then the best landscaper will have a track record of landscape construction.
Still looking for the best landscaper in Sydney? (hint: you just found them)
While *best* is subjective, you can tilt the scales in your favour and find your perfect match by choosing a Sydney landscaper that is:
Able to answer all your questions thoroughly (are they licensed, what is their approach to planting in Sydney's climate, etc)
Able to understand and offer a step-by-step strategy to execute on your vision
Able to provide 5-star customer testimonials and a gorgeous project gallery
Able to prove expertise in your preferred landscaping niche
If you find a local team who ticks all those boxes, you're ready to reach out and chat about your next project.
Speaking of, feel free to contact us today on 0415 837 699 or request a FREE design consultation online to tell us more about your vision (and we'll tell you how we'll execute on it).